Collyweston Stone Slate Roofs
Heritage Roofing Services use traditional methods for Collyweston Stone Slate roofing. Existing Collyweston roofs are hand stripped by skilled Collyweston Slaters, before each slate is individually dressed by hand and re-holed ready to be used again. Collyweston Stone Slate roofs are laid in diminishing courses, sized by hand, on a lime mortar mix.
We source the highest quality reclaimed Collyweston slate. Ensuring we always have a stock of reclaimed Collyweston slate ready to use.
We are proud of our projects which include listed buildings, both Grade I and II, conservation areas, heritage sites and areas of outstanding natural beauty. Please take a look at some of our most recent projects below.
Heritage
Roofing
Services
Tel: 01780 410 929
Mobile: 07957 740 852
swright@heritageroofingservices.com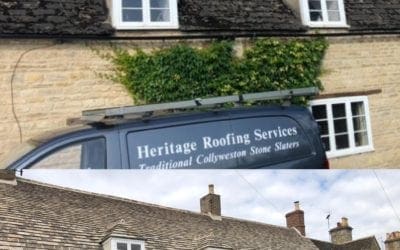 Recent ProjectsCollyweston Dormer - Before/After  Cottage roof re-slated with existing Collyweston Slate.
read more