Welcome to
Heritage Roofing Services
Specialists in Collyweston Stone Slating
Heritage Roofing Services
Heritage Roofing Services of Stamford is a family run business with over 25 Years' Collyweston slating experience. Providing quality roofing services in Stamford, Rutland, Lincolnshire, Northamptonshire and throughout the UK.
We Specialise in Collyweston Slate Roofing, but can also provide Blue Slate, Pantile and Historical Lead work. We have worked with Natural England to be bat friendly and provide bat friendly solutions.
We pride ourselves on the quality of our work and offer a specialist roofing service carried out by our qualified team.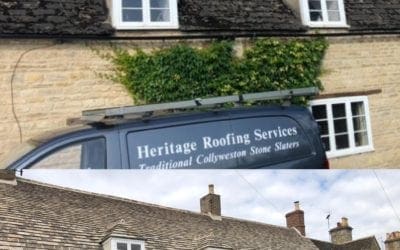 Recent ProjectsCollyweston Dormer - Before/After  Cottage roof re-slated with existing Collyweston Slate.
read more