Using reclaimed natural blue slate from our own stock.
We offer all services related to Blue Slate roofs, from re-slating to repairs and maintenance. 
Generally we carry a stock level of around 20,000 high quality, hand sorted reclaimed Blue Slates, which have been re-holed and graded into thicknesses by our own team. This allows us to complete projects efficiently and to an extremely high standard
We have years of experience with all types of Natural slate such as Welsh, Westmoreland, Burlington, Switzerland, Spanish and a range of other naturally quarried slates. Natural slate offers exceptional durability so this makes it an ideal roofing material for your home.
Heritage
Roofing
Services
Tel: 01780 410 929
Mobile: 07957 740 852
swright@heritageroofingservices.com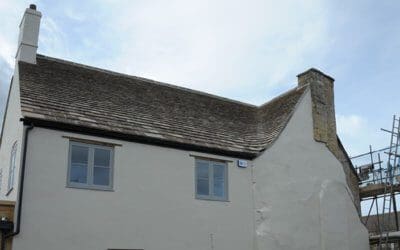 Strip existing Collyweston Slate, install new breathable felt and battens and re-slate the roof using the existing Collyweston Slates, all individually re-dressed and re-holed by hand.
read more